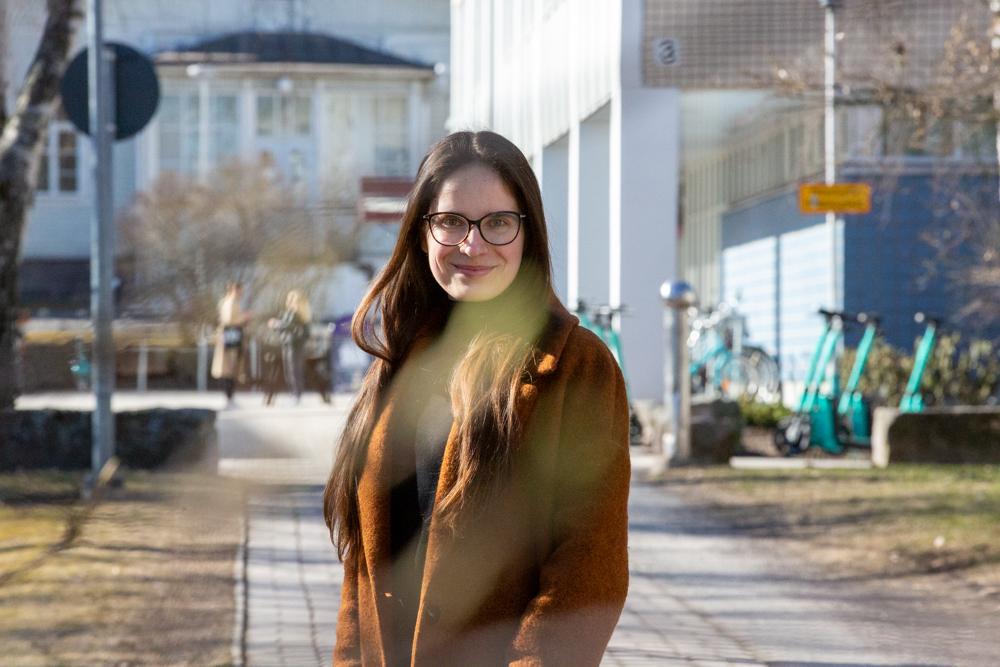 Kateryna Pinchuk is currently doing a Social Science Master's Program at University of Turku. With Yrityssalo she is helping Ukrainian refugees seek employment in Salo.
Kateryna Pinchuk Wants to Introduce Ukrainian Workers to Salo's Entrepreneurs
The war in Ukraine has led to a large number of Ukrainians seeking refuge in Europe, also in Finland. Yrityssalo has appointed Kateryna Pinchuk, a Ukrainian Social Sciences Master's student, who has lived in Finland for two years, to introduce this workforce to all hiring companies of Salo.
From the onset of the Russian attack against Ukraine, Ukrainians have sought different ways to contribute to the country's war efforts. Among them is Kateryna Pinchuk, who two months ago, living as a student in Turku, found herself anxious to help her family and people in Ukraine.
"At first I was feeling guilty that I couldn't do anything for my nation. I couldn't protect them, I couldn't make them feel relieved. As the war started, my family needed to go to west of Ukraine in order to save their lives. When I approached Finnish social workers or organisations like the Red Cross, they weren't able to help either, because they didn't know how to act on the new situation", Pinchuk remembers.
After that she found the best way to provide assistance was to help Ukrainian refugees seek employment in Finland. Few weeks ago an opportunity presented itself, as Yrityssalo sought a Ukrainian-speaking person to facilitate the employment of Ukrainian refugees in Finland.
"I instantly filled in the application, not only because I have a suitable degree, but also because I wanted to help my nation and improve the living conditions of my people. Not so long after that Yrityssalo approached me and asked to come to Salo for an interview. I was told I could start working starting in May, but I couldn't wait, since I wanted to help Ukrainian refugees right away."
"Don't hesitate to search for opportunities"
After working for a week now in Yrityssalo Pinchuk feels she has been welcomed. She has all the information and means to carry out her tasks. This makes it easy for her to help refugees, as they may be hesitant to approach potential employers due to cultural differences.
"In my experience Finns are eager to give assistance. They are happy to answer questions, however simple or hard the question would be. Therefore I'm encouraging Ukrainians not to be afraid to ask, but also not to be afraid of reaching out to potential employers. Not to hesitate to search for opportunities. And if any questions should arise, I'm here to help", she points out.
Of course Ukrainian workers aren't a novelty to Finnish employers. For example many have benefited from seasonal workers' work input in the rural industry for years now. Pinchuk knows this, and finds there is no reason such confluence wouldn't also exist amid this crisis.
"Ukrainians work in many fields. We have highly specialised workers, teachers, and skilled IT-personnel. Although they may not get employed in their own fields in Finland, these people are eager to learn and seek additional jobs during their stay."
Open-minded Finns and hard-working Ukrainians
Pinchuk has a bachelor's degree and an on-going master's degree in psychology. Three years ago in 2019 she came to study in Turku as an exchange student in Novia University of Applied Sciences. At the moment she is studying as a degree student in University of Turku obtaining a master's degree in social sciences. Her goal is to graduate with two master degrees and use her skill set as a psychologist.
She also comes from a multinational background, as by her mother's side she has family living in Israel and Canada. Therefore working as a link between people of different national backgrounds comes naturally to her.
While visiting Finland she has grown familiar with the country's culture and people. In this regard, Finnish working culture stands out.
"I like the Finnish mind-set. Finns are very pragmatic and open-minded. They are also very calm, as opposed to Ukrainians, who are a bit more emotional. On the other hand, Ukrainians are very hard workers. I find it a good match", Pinchuk states.
According to her, Ukrainians shouldn't have any difficulty getting employed in Finland and in Salo. This is because they are hard-working people and fast learners. One additional contributing factor is the Finns' high standard of English language proficiency.
"As Finnish is not the only language used in the working life in Finland, it makes it much more accessible for foreign applicants to look for work and get noticed", Pinchuk commends.
Newfound value in life
Right now Pinchuk is eager to start working for the benefit of both Ukrainian refugees and hiring companies of Salo. Her future goal is to complete her studies and start a working life in Finland. Currently her aim is to support Ukrainians by helping them find a job. In her experience the Finnish government and local people understand the pressing issue.
"It can't wait. They need to get involved, as Ukrainians need help right now. But Finland has expressed its responsibility to help Ukrainians. This  country gives opportunities to people, and a good well-being in general", Pinchuk says.
As Ukraine is in a state of war, Pinchuk has given value to many things she previously took for granted.
"Good health, good housing, employment, confessing your love to someone… These things have become more meaningful and valuable to me."